Queen Mary 2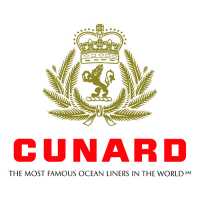 Cruise Only price from: £0
Please contact us for prices on other cabin types
7 Night Europe - Transatlantic West cruise - on board The Queen Mary 2
About this Cruise
Departure Date

25 Aug 2019

Region

Transatlantic

Embark at

Southampton

Disembark at

New York
Vacation Nights

7

Cruise Nights

7

Pre Cruise

no Hotel Nights

Post Cruise

None
DATE
PORT / LOCATION
COUNTRY
ACCOMODATION
25 Aug 2019
Southampton
UK
On Board
26 Aug 2019
Navegación
-
Navegación
27 Aug 2019
Navegación
-
Navegación
28 Aug 2019
Navegación
-
Navegación
29 Aug 2019
Navegación
-
Navegación
30 Aug 2019
Navegación
-
Navegación
31 Aug 2019
Navegación
-
Navegación
01 Sep 2019
New York
United States
Return
Overview
Queen Mary 2 claims to be the Queen of all Ocean Liners and a worthy successor to the great transatlantic liners of the past.
Queen Mary 2 is now the second largest cruise ship afloat with interiors that are grand, stylish and spacious.  Queen Mary 2 passengers tend to be Discerning 50+ and British, American & International. When all cabins have double occupancy, the ship provides a space ratio of 56.8 tons per passenger and a crew to passenger ratio of one for every 2.1 passengers.
At full capacity the space ratio is 53.6 tons per passenger and the crew ratio is one to 2.2 passengers.
Grand Duplex Apartments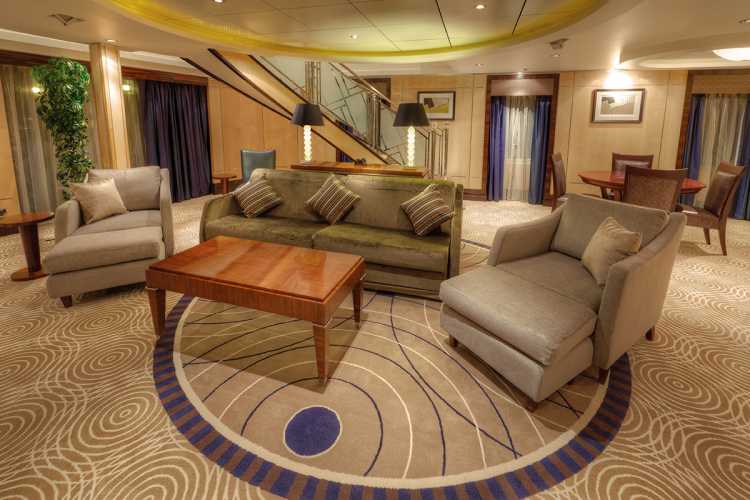 The Balmoral and Sandringham Duplexes are the most lavish and magnificent suites afloat. The sweeping living quarters with extensive balcony and spectacular vies over the stern include a fully stocked bar, dining area for eight, dressing room, interactive plasma screen TV and home office corner. Upstairs, the master bedroom has private exercise equipment, a second TV, two marble 'his and hers' dressing rooms with connecting bathrooms with separate whirlpool bath and shower. (Guest bathroom with shower downstairs). 
STATS
 2,249 Square Feet

Sleeps up to 4

Queens Grill
Duplex Apartments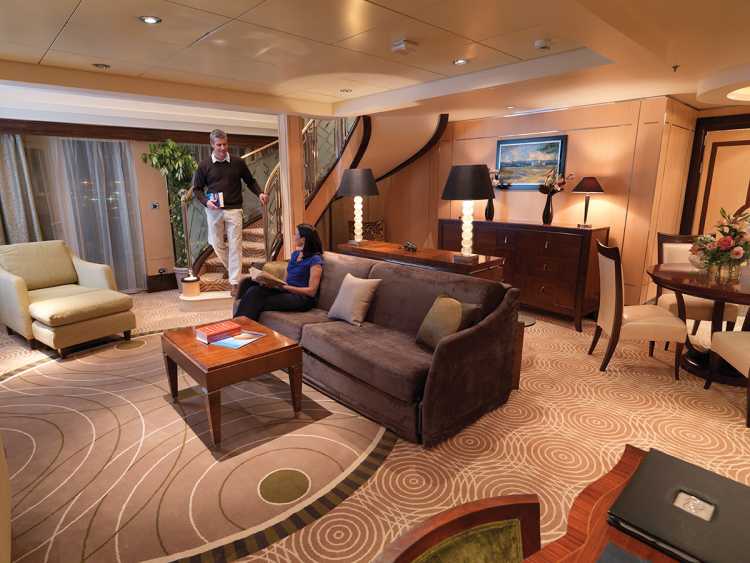 The Windsor and Buckingham Duplexes and Holyrood Duplex are similar to the above but feature slightly smaller staterooms and balconies. These two-storey apartments with panoramic views over the stern also feature a fully-stocked bar, dining area for eight, dressing room, plasma screen TV system and home office corner. The open stairway leads to the vaulted ceiling bedroom area with private exercise equipment and two connecting baths with whirlpool bath and shower with body jets. 
STATS
1,471- 1,566 Square Feet

Sleeps up to 4

Queens Grill
Royal Suites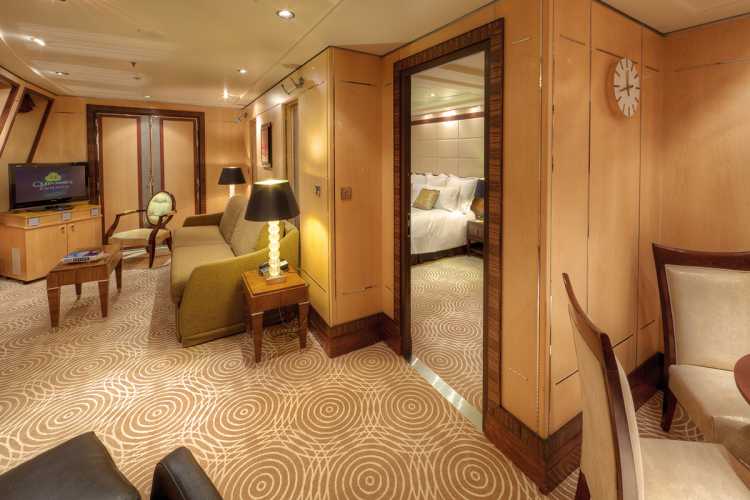 The Queen Mary and Queen Elizabeth Suites provide guests with a glass lift with private access on Deck 10 that opens into these two rooms. Located all the way forward with commanding ocean views, the luxuriously furnished living quarters feature a marble floor entrance, fully stocked bar and dining area for eight. A secondary living area offers a guest bath and interactive TV system. And there's a second TV in the master bedroom. The Master bathroom features shower and separate whirlpool bath. 
The Queen Anne and Queen Victoria Suites offer commanding views over the bow of the ship and are the same as the Queen Mary and Queen Elizabeth Suites but with no balcony. Living and dining area. Features include guest bath, marble entryway, Frette linens, fully stocked bar, two TVs in both the living room and master bedroom, a dining area for four and walk-in wardrobes. The Master bathroom features shower and separate whirlpool bath
STATS
796-1,194 Square Feet

Sleeps up to 4

Queens Grill
Penthouses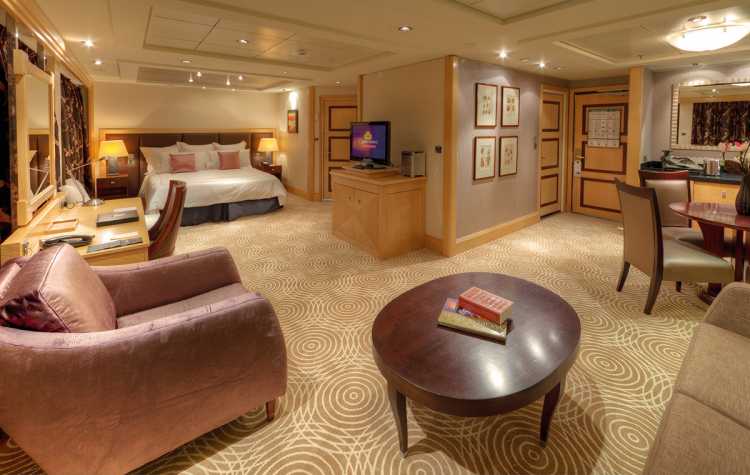 Penthouses feature living and dining area with large balcony. Other features also include Frette linens and full dressing room. The entrance and dining areas feature seating for four and there is a fully-stocked bar and guest bath. Both the bedroom and living room connect to a teak balcony. 
STATS
758 Square Feet

Sleeps up to 4

Princess Grill
Suites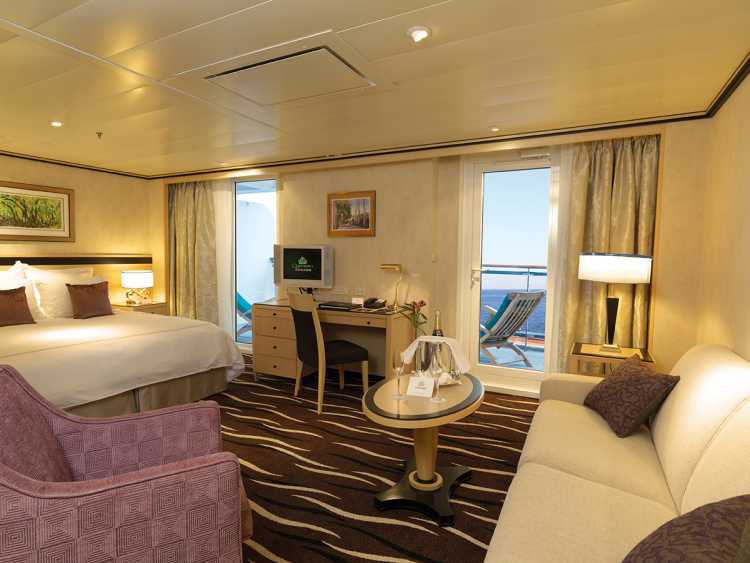 Each suite features a large balcony, spacious living area, dressing room and bathroom with separate shower and whirlpool bath. Original art graces the walls.The sitting area includes a sofa and dual-height coffee table that can be extended to a dining table. The bedroom area features a king-size bed and a separate dressing area with walk-in wardrobes. 
STATS
506 Square Feet

Sleeps up to 3

Princess Grill
Junior Suites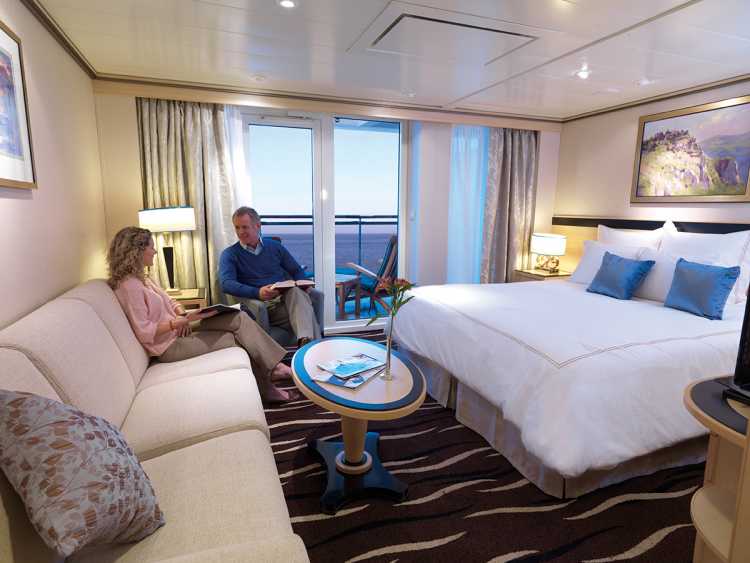 Each Junior Suite features a sitting area with full size sofa and interactive TV, a large balcony furnished with loungers and tables and a full bathroom with bath and shower. There are also a separate glass cabinets and walk-in wardrobe. 
STATS
381 Square Feet

Sleeps up to 3

Princess Grill
Deluxe and Premium Balcony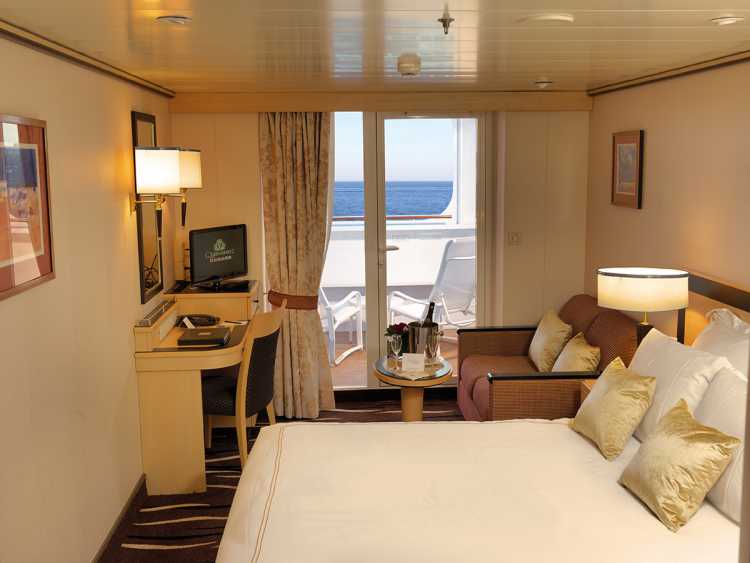 Deluxe Balcony cabins and Premium Balcony cabins include a panoramic hull balcony with loungers and tables. King-size beds may be converted to twins and a dual height coffee table may be used for in-room dining. The sitting area features a sofa and there is ample wardrobe space and bathroom with shower. 
STATS
248-269 Square Feet

Sleeps 2

Britannia Club
Standard Oceanview Stateroom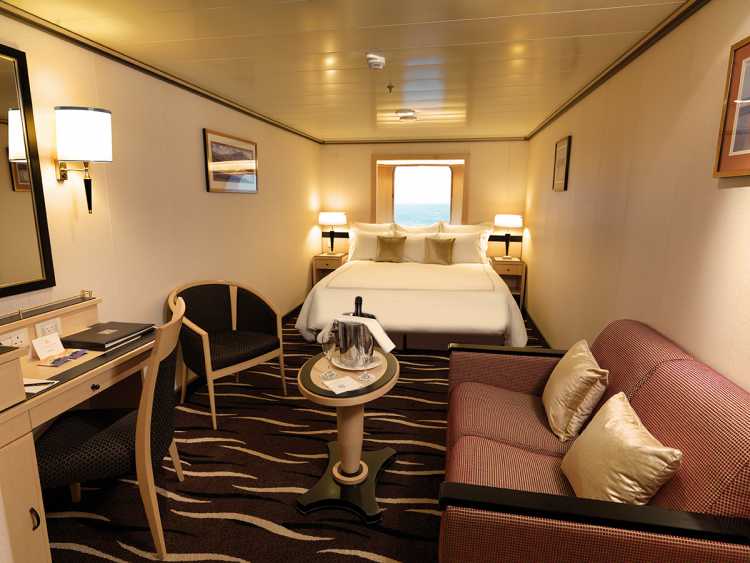 These staterooms provide spacious comfort with king size or twin beds. Other features include a dual height coffee table for in-room dining. 
STATS
194 Square Feet

Sleeps 2

Britannia
Atrium Stateroom
These staterooms provide spacious comfort with king size or twin beds. Each of these 12 cabins feature views into the atrium below. Other features include a dual-height coffee table for in-room dining
STATS
194 Square Feet

Sleeps 2

Britannia
Standard Inside Stateroom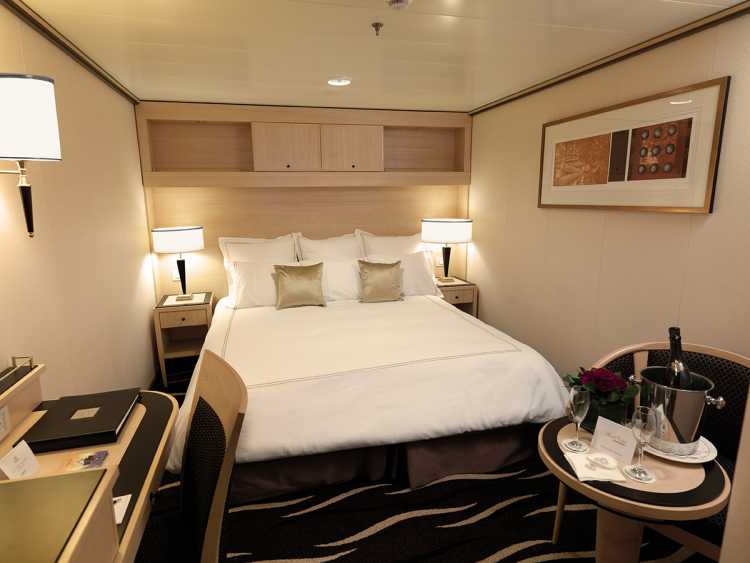 These staterooms provide spacious comfort with king size or twin beds. Other features include a dual-height coffee table for in-room dining. 
STATS
194 Square Feet

Sleeps 2

Brittania
Queen's Grill

The Queen's Grill is a luxurious, fine-dining venue reserved exclusively for Queens Grill Suite passengers. The elegant restaurant is open for breakfast, lunch and dinner, with an a la carte menu also available.
Princess Grill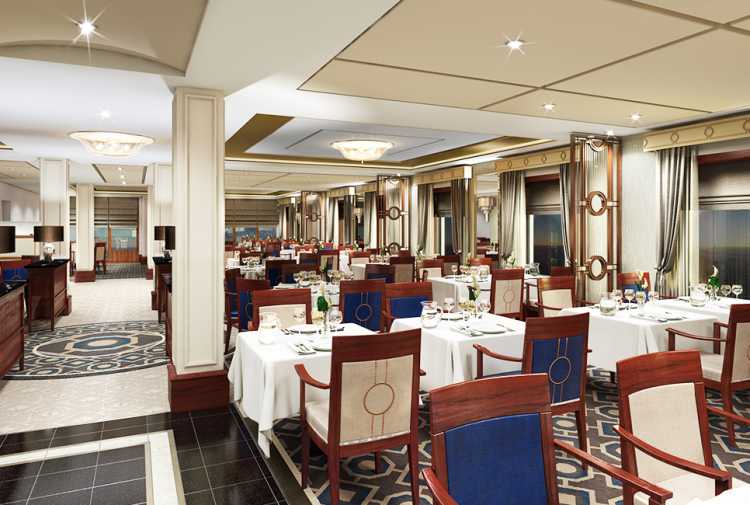 The Princess Grill offers an intimate, fine dining experience, reserved exclusively for Princess Grill Suite passengers. Open for breakfast, lunch and dinner, with an a la cart menu is also available.
Britannia & Britannia Club Restaurant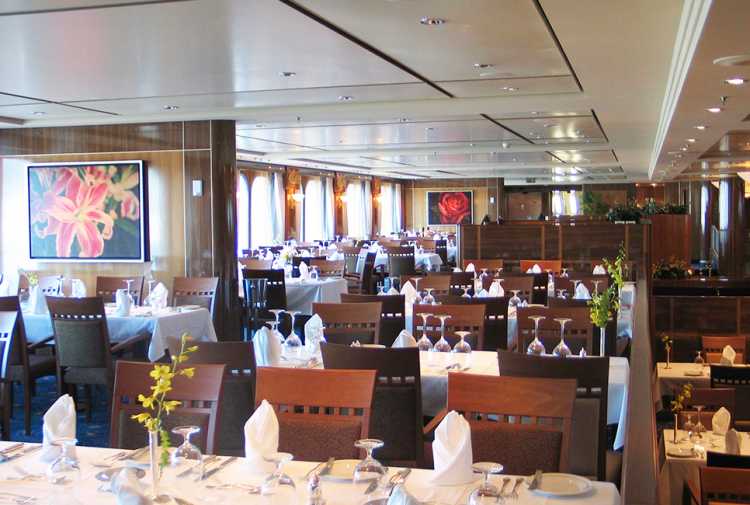 Make a dramatic entrance down the grand staircase into the elegant Britannia two tier dining room and revel in the sumptuous menus and perfectly attentive service. Choose between an early or late sitting or book a Britannia Club Balcony stateroom and enjoy single-seating dining in the intimate Britannia Club restaurant.
Todd English Restaurant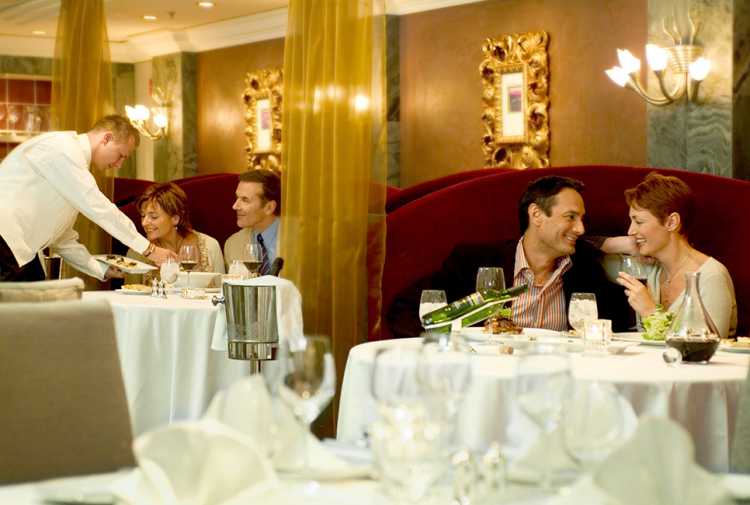 Beautiful decor with intimate alcoves overlooking the pool terrace complement speciality Mediterranean dishes such as Pumpkin Puree Love Letters and Porterhouse of Lamb. Designed by renowned Chef Todd English, famous for his restaurants in many U.S. cities.
Queen's Room
The elegant tradition of Afternoon Tea is a Cunard signature not to be missed. Here white-gloved waiters serve delightful cucumber sandwiches, fresh scones and tea accompanied by the sounds of the orchestra in the magnificent Queens Room ballroom.
King's Court
Enjoy a casual breakfast, lunch or late-night buffet in the relaxed self-service Kings Court restaurant. In the evenings, savour a unique experience as the restaurant transforms into four alternating intimate venues; Lotus: Asian cuisine, the Carvery: British-style carved roasts, La Piazza: Italian cuisine and the Chef's Galley: as the chef reveal their culinary secrets.
The Verandah Restaurant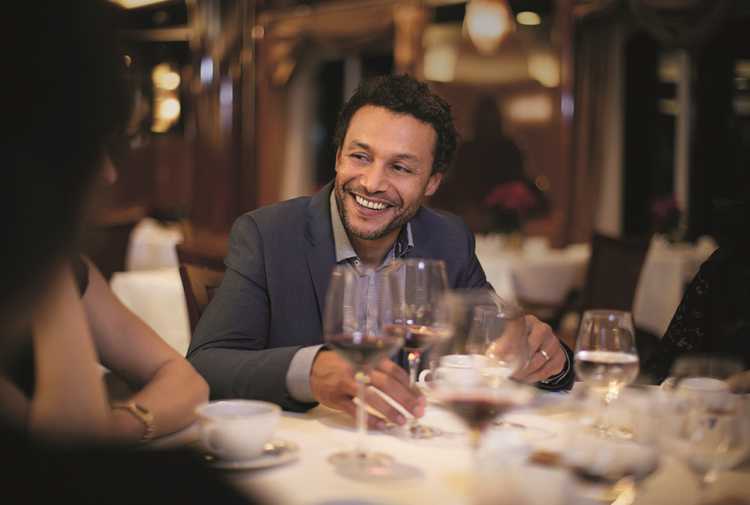 The Verandah restaurant offers contemporary French cuisine that makes use of seasonal ingredients of real provenance. Designed to create a genuine dining experience, The Verandah restaurant takes design inspiration from the original Verandah Grill on board Queen Mary. The Verandah will be available from June 2016.
The Royal Court Theatre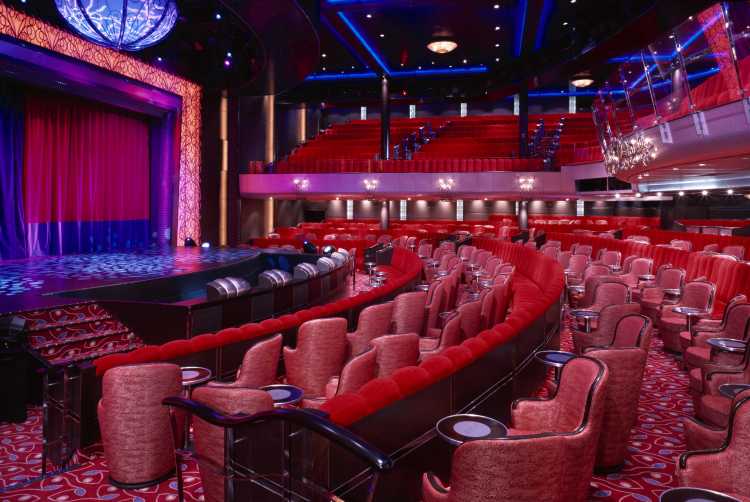 Designed in an elegant opera house style, The Royal Court Theatre showcases classic and modern films during the afternoon, with fantastic live comedy, cabaret and theatre performances in the evenings.
Empire Casino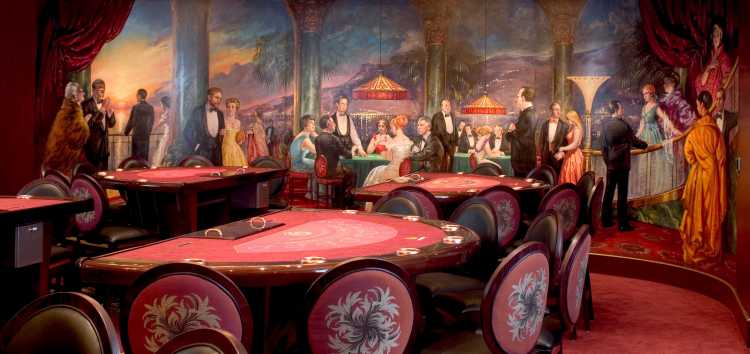 This elegant casino will set your heart racing as you spin the roulette wheel, play the slots or try your hand at black jack. If you are not sure how to play then the casino also offers complimentary gaming lessons.
Illuminations Cinema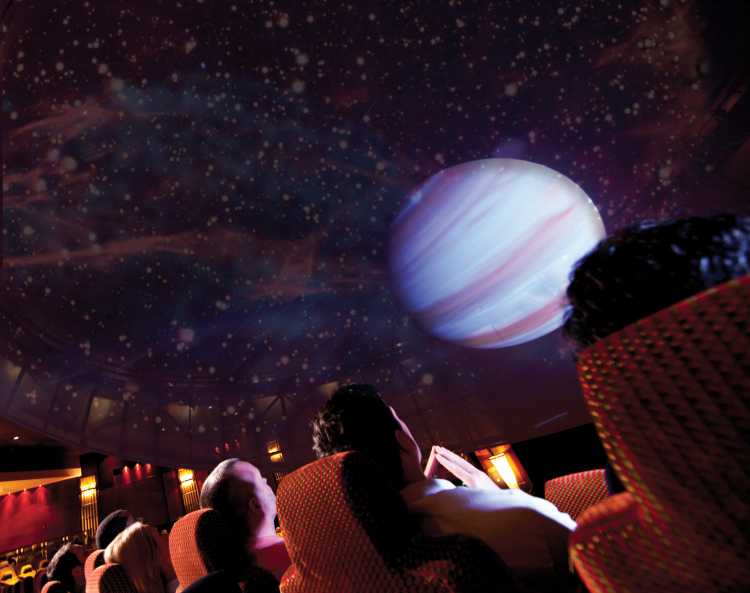 If you are seeking a quieter evening, sit back and relax with a superb collection of movies showing in Illuminations each night.
Queens Room
The wonderful Queens Room provides the opportunity to foxtrot in the largest ballroom at sea. There is no better place to hone your dancing skills than under the dramatic high ceiling with its beautiful crystal chandeliers.
Royal Night Theme Balls
Royal night themed balls in the magnificent Queens Room Ballroom are your chance to don your formal dancing attire and take to the floor in a sea of glittering ball gowns and tuxedos accompanied by sounds from the orchestra.
Nightclub G32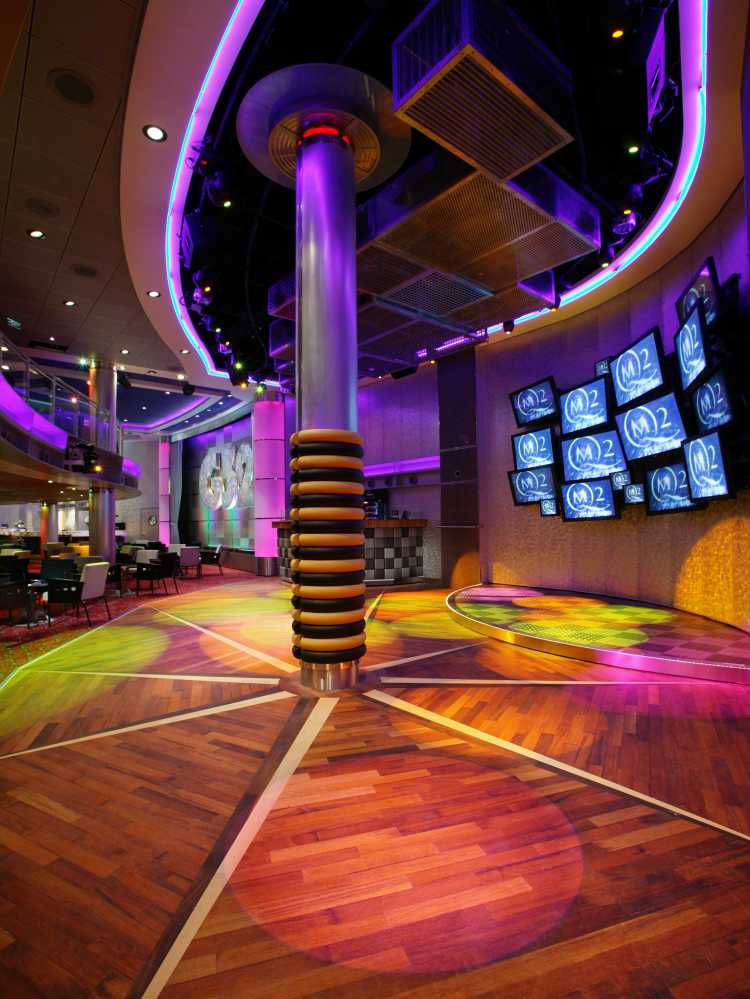 Dance the night away to the sounds of our resident party band and DJ in our fabulous dual-level nightclub. Enjoy popular themed nights from the Sixties, Seventies and Eighties such as Saturday Night Fever and Shake Rattle and Roll.
Galleries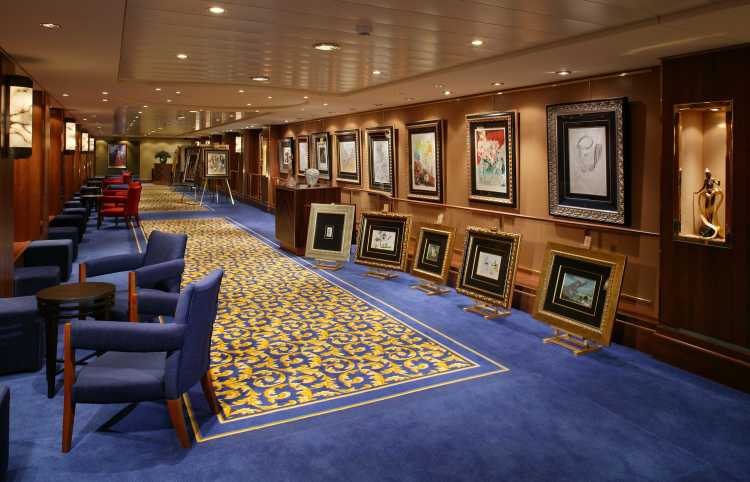 Art connoisseurs can enjoy a choice of three galleries. Cladendon Fine Art features original artwork and lithographs by 20th and 21st century artists. Cunardia and Cunarder's Gallery each focus on artefacts from past Cunard lines, black and white photography of famous faces and stories of those who have travelled with Cunard over the years.
Shopping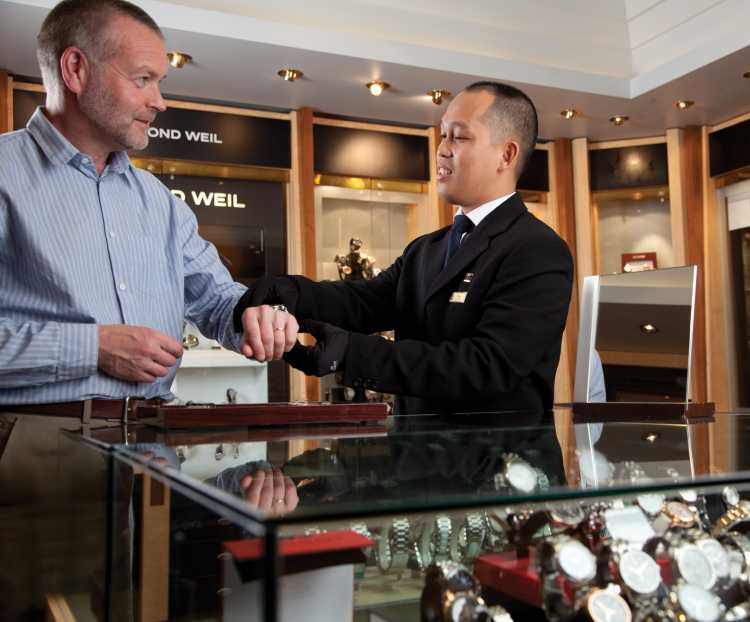 The ship features a variety of shops for those who enjoy a spot of retail therapy. Passengers can find designer brands in the Royal Arcade boutiques, pick up souvenir photographs in the Image Photo Gallery, or check out the nautical literature and memorabilia in the bookshop.
Commodore Club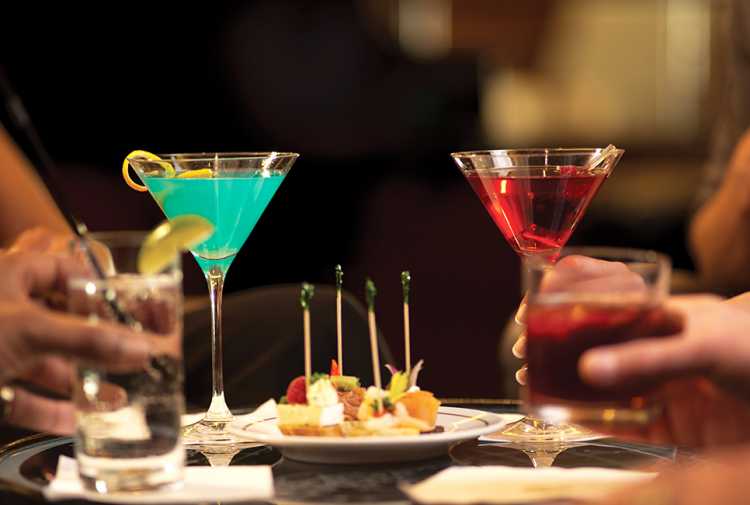 Cunard's signature Commodore Club majestically overlooks the bow of Queen Mary 2 and provides glorious panoramic views as you sail towards the horizon. An extensive selection of Martinis are available and you may even be tempted to try our Martini Mixology or Whisky Tasting classes.
Veuve Cliquot Champagne Bar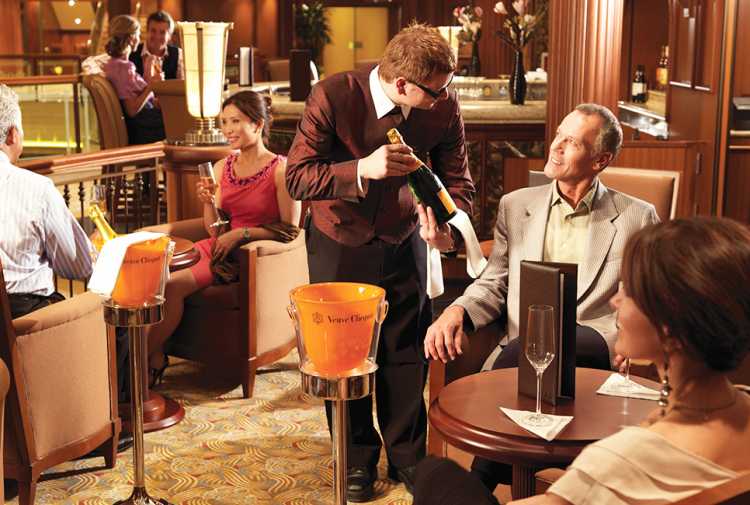 Share conversations and sip champagne from beautiful Waterford crystal flutes. Guests may choose from among seven different Veuve Clicquot champagnes, served by the bottle or the glass.
Golden Lion Pub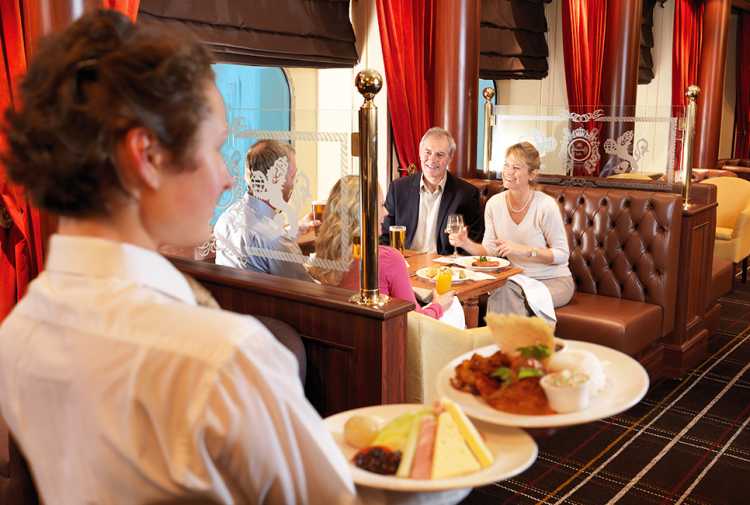 Darts, karaoke, live sports and ale – everything you'd expect of an authentic English pub. There's even a traditional pub lunch served every day, with classic favourites such as fish and chips and cottage pie.
Carinthia Lounge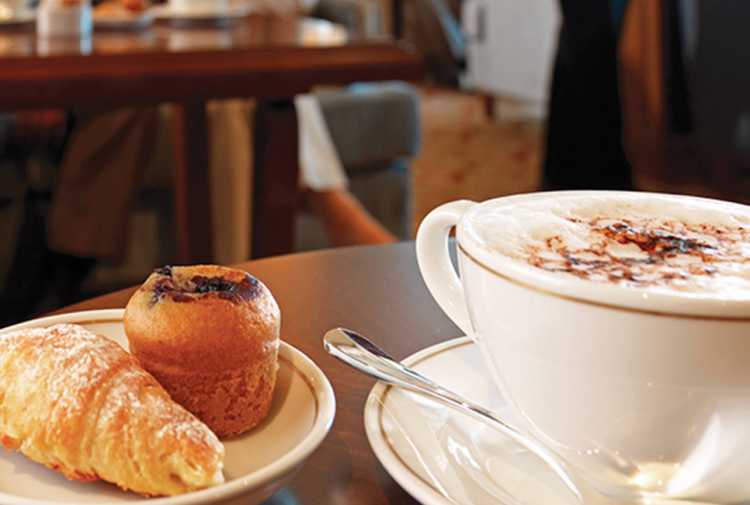 A tranquil retreat by day, the serene Carinthia Lounge provides the perfect place to relax and catch up with friends, or a good book, as well as enjoy light breakfast and lunch dishes along with premium teas and coffee, handmade patisseries and a special Champagne Afternoon Tea experience. When the sun sets, the atmosphere evolves into an inviting evening spot where carefully selected wines are paired with tasting plates, and relaxed entertainment. Carinthia Lounge will be available from June 2016.
Winter Garden
London's famous 'Kew Gardens' is the inspiration for this quiet lounge themed on an English country garden. A unique indoor water sculpture and lush greenery brings the outdoors inside. Sip a mimosa while you enjoy the early afternoon view, or meet up with friends for an evening of drinks and soft piano music. Winter Garden will be available until May 2016.
Sir Samuel's
The perfect place to relax with a speciality coffee and cake or light lunch, Sir Samuel's offers expansive views over the ocean from large windows with comfortable chairs to while away a few hours.
Canyon Ranch SpaClub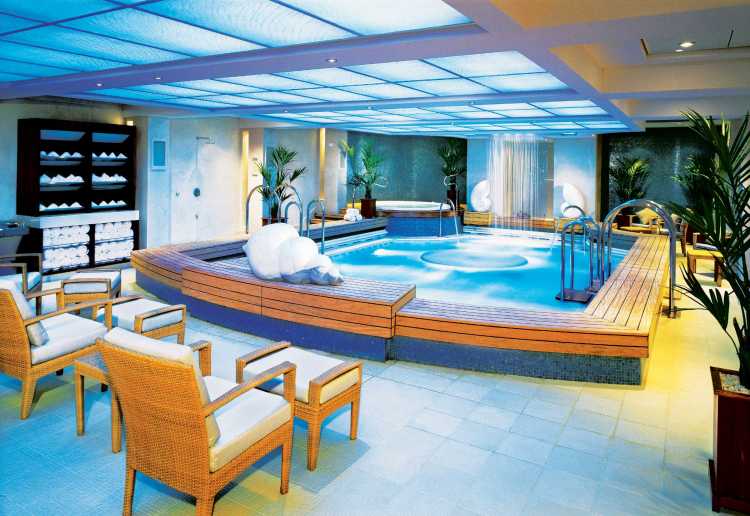 Enjoy the ultimate in pampering and wellness at the exquisite Canyon Ranch SpaClub. Indulge in signature Canyon Ranch massages, treatments and facials from the classic Canyon Stone Massage or Rasul Ceremony, to exotic Ayurvedic or Thai treatments.
Fitness Centre
Passengers who wish to stay active can make use of the fully equipped gymnasium. As well as state of the art gym equipment, the centre also offers classes, including yoga, pilates, aerobics and spinning.
Swimming Pools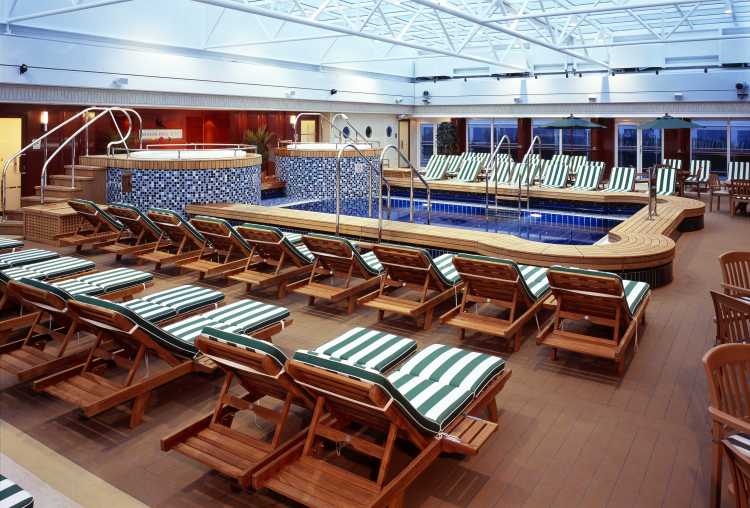 There are a total of five swimming pools on board Queen Mary 2, including the Terrace Pool on Deck 8, The Minnows Pool especially for children on Deck 9, the Sun Deck Splash Pool on the top of the ship and our most popular Pavilion Pool on Deck 12 which features a retractable dome for any weather.
Sports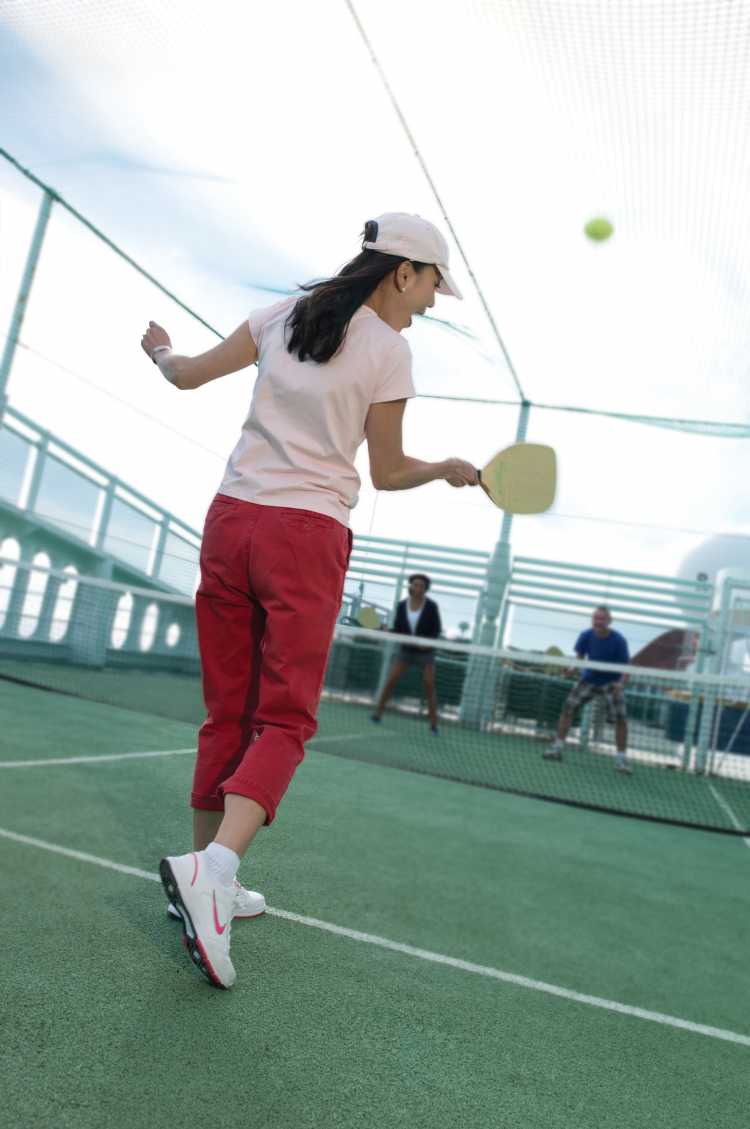 Queen Mary 2 offers a wide variety of sports facilities for passengers who want to stay active during their cruise. These fantastic facilities include, basketball courts, paddle tennis courts and a golf simulator.
Games Deck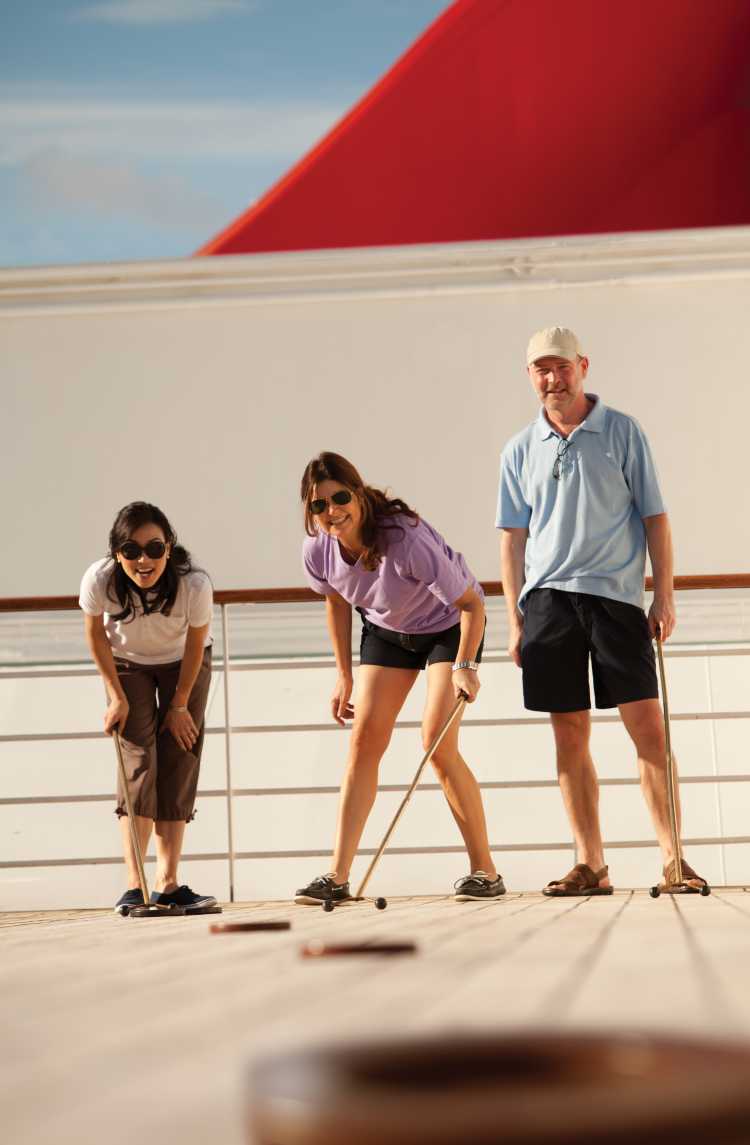 When the warm weather entices you onto the spacious Games Deck you'll notice a definite English country garden ambience, with the gentle clunk of croquet balls in the welcome shade of its canopy. The games on offer include traditional cruise favourites such as shuffle-board, bowls, quoits, and paddle tennis, with occasional tournaments also taking place.
Cunard Insights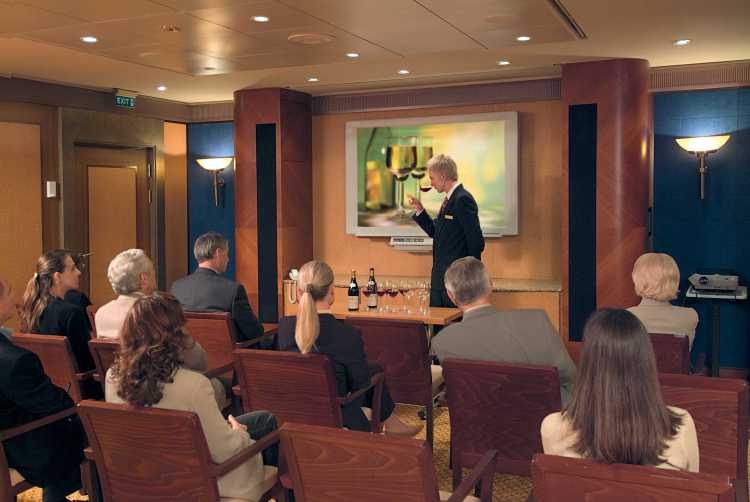 Explore a number of historical and contemporary issues presented by a wide range of speakers including explorers, academics, former ambassadors and politicians, historians and scientists, novelists, biographers and award winning actors and film makers.
Cunard ConneXions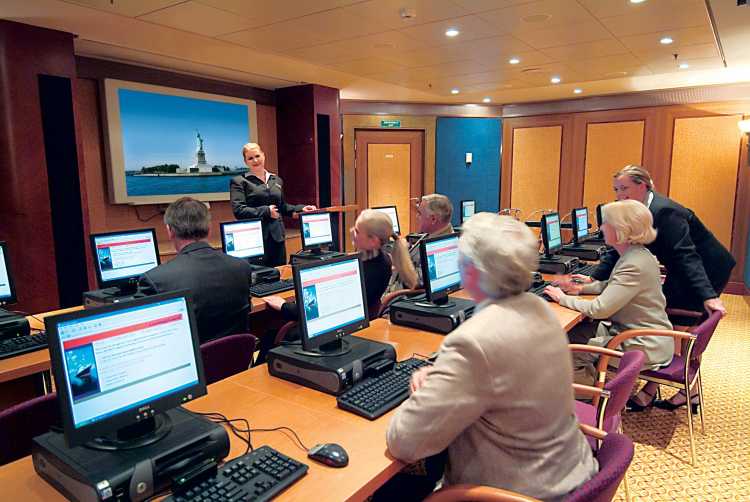 Cunard ConneXions offers a programme of activities all day every day from watercolour to computer lessons, wine tasting to ballroom dancing as well as bridge and board games.
RADA Acting Workshops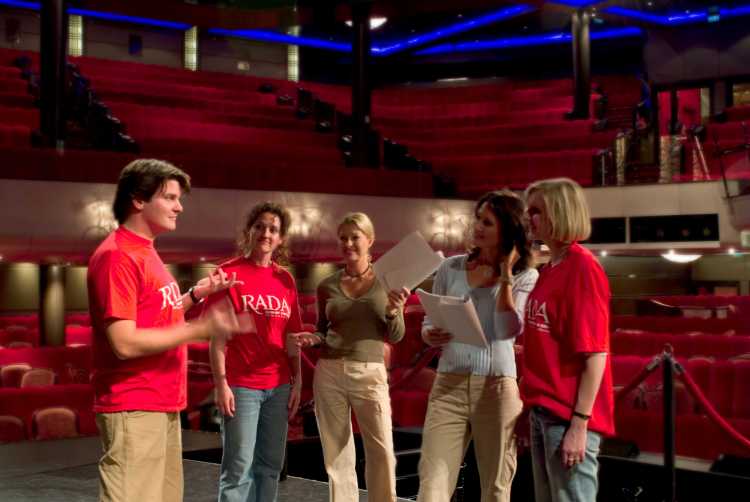 The RADA actors offer guests the chance to share some of the training they received during their 3 years at the famous drama school. Each workshop lasts approximately 45 minutes.
where
date
days
cruise line
cruise ship
from pp